Choosing the best blankets for your log cabin
Whether tossed on the arm of a sofa, hung from the back of a lounge chair, or laid along the end of a bed, the right blanket can bring color, style, and comfort to your cabin. See our buying guide below.
Find the Right Size
When buying a blanket for your cabin, you need one that is perfectly sized for your intended purpose. For instance, if you want to use it on your bed, it should be enough to cover the mattress, leaving a few extra inches to tuck in around the sides.
Select the Right Fabric
Picking the right fabric is a bit tricky. There are several standard blanket fabrics, and each one of them has its benefits. It is, therefore, best to research well and choose the one that best suits your needs. If you need a heavy warm blanket, you can go for wool which offers great insulation while allowing significant moisture evaporation.
What about weave?
Besides fabrics, blankets also come in different weaves, which offer varying levels of warmth and weight. For instance, a thermal weave is loose, and it lets air circulate easily, while cozy knit weaves are heavy and warm. The latter are usually made from wool or synthetic material.
Check out these awesome blanket ideas to find a choice that speaks to you.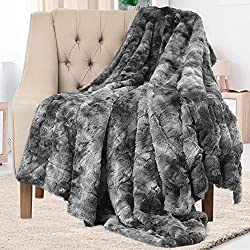 Everlasting Comfort Luxury Faux Fur Throw Blanket
The ultra-soft plush throw blanket is ideal for use on a regular couch or sleeper couch in the living room. It's perfect for any season, whether it's fall, winter, or spring. The blanket features a faux animal print on one side and a classic solid design on the other. With this blanket, there is no need to try and figure out which side is more comfortable or which side is top or bottom; they both are. It is carefully crafted with durable, long, thick threads making it suitable for outdoor use.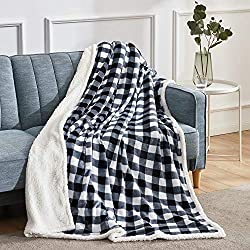 BEAUTEX Sherpa Fleece Throw Blanket
The lightweight sherpa fleece blanket is a cozy selection that is ideal for use on a sleeper couch. It measures 50inches x 60inches, and it is made using 480GSM reversible microfiber. The eye-catching buffalo checkered design is just as beautiful as it is comfortable. Also, being made from microfiber, with double-needle stitching, the blanket is quite durable. It's relatively easy to take care of since you can machine wash and tumble dry it. You should, however, avoid bleaching or ironing it at all costs.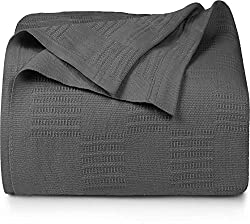 Utopia Bedding Premium Cotton Blanket Queen Grey
A Soft, breathable thermal blanket, the Utopia cotton blanket is ideal for layering any bed. The medium to lightweight blanket measures 90 x 90 inches, and it's made from 100% Cotton, making it suitable for any season. It's also relatively easy to clean as you can machine wash and dry it.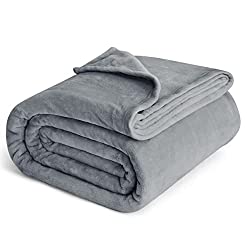 This Queen Size, grey, lightweight blanket is made from 100% microfiber polyester. It's super cozy feel makes it perfect for chilly nights. The blanket measures 90inch x 90inch, and it is an ideal selection for cabin owners with a sophisticated home decor taste. You can also use it as a top layer to protect your luxury bed from dirt and stains, keeping them fresh and clean. The blanket is double-sided, meaning you can experience different levels of softness as you enjoy your sleep. To clean, you can machine wash in cold water. You should, however, avoid fabric softener and dry cleaning.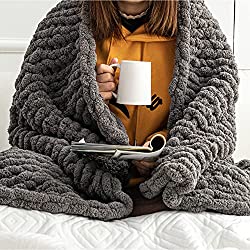 The Chunky knit blanket is made from Cheniile luxury yam that has a buttery soft feel. While traditional wool is stiff & scratchy, Chenille luxury yarn is very smooth to the touch. The blanket measures 50 inches x 60 inches which is large enough to cover a bed, couch, or lounge chair. It is made from non-shed yarn, meaning you won't have to deal with annoying attachments on your clothes or pajamas.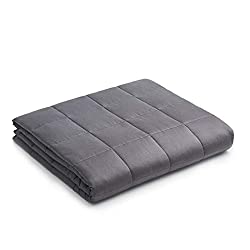 The YnM single-person blanket is made from hefty 100% Oeko-Tex certified cotton material and premium glass beads. It is ideal for use on its own or together with a duvet cover. The blanket offers a comfortable and natural way to calm yourself and enjoy a peaceful sleep. It is made in such a way that it nicely contours to the shape of your body. Its seven-layered structure makes it quite comfortable and cool enough for the warmer nights as well.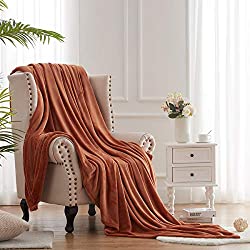 Hboemde Fleece Blanket Twin Size
This beautiful fleece blanket is best displayed nicely folded over the arm of your couch. The blanket is made from 100% microfiber polyester fabric. It will not bunch up with time, and it's also fade and stain-resistant. The fuzzy blanket features a reversible double-sided design, with neat stitches that enhance the firm connection at the seams while significantly improving the structural strength. To create a lived-in and relaxed look, you can try putting the blanket on your couch off-center or drape it casually over the back of the couch.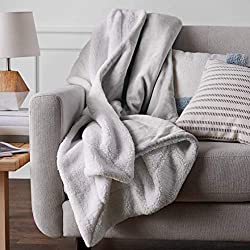 Amazon Basics Ultra-Soft Micromink Sherpa Blanket
This reversible grey blanket is made from 100% Polyester. The material is wrinkle-resistant, and you can use it as a bedspread or throw. Due to its medium-sized thickness, you can also use it in any season. Lastly, It's machine-wash friendly, which makes it relatively easy to maintain.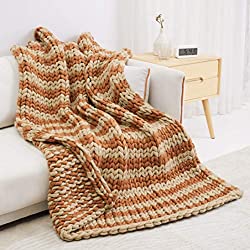 Trunkor Burnt Orange and Beige Chunky Knit Blanket
Ideal for your bed, or sofa, this beautiful chunky blanket is mainly meant for decoration and light use. Although it was crafted to reduce shedding as much as possible, it will shed considerably. This super-soft blanket is a truly exceptional offering that will bring more style and comfort to your cabin. It is big enough for the bed, but you can also use it on your couch or sofa.