Cast Iron Skillets have become synonymous with Log Cabin cooking. Not only is the Cast Iron Skillet one of the most durable cooking instruments, it is also a family heirloom that will last for many generations. In fact, people today still cook on Cast Iron Skillets that are 100 years old, seriously! But cooking on such an old skillet is not for everyone, so I wanted to rate the top four Cast Iron Skillets of 2021 to keep in your log cabin. The below products are all Made in America, and it is my opinion that Made in America cast iron skillets are the best.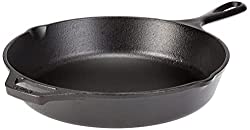 Lodge is the quintessential Cast Iron Skillet. It is cheap. It is heavy duty. It gets the job done. Some critics may say that the pre-season on the Skillet makes it difficult to cook, but I find that the Lodge pans just get better and better over time. I would recommend the 10.25 inch size as this is the most popular.
This is one of the higher end skillets as far as Cast Iron is concerned. While the steep price may deter some folks from buying the skillet, you can rest assured that the product is worth its weight in gold – when it comes to cooking. Your bacon won't stick to the bottom of this pan!
Field Company is a newer entrant into the cast iron skillet market, but they make a beautiful product. The skillet is pre-seasoned, and while the skillet does not have any pour spouts, it does have a lip on the edge of the skillet which makes pouring out of any side of this skillet seamless.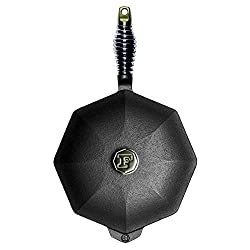 Finex Cast Iron Skillets have the most unique design. The company was recently made part of the Lodge Cast Iron, but Finex is run as its own company. The handle is ergonomic, and the hexagonal shape makes pouring grease out of this skillet a piece of cake! Check out their amazing design.
*As an Amazon Associate I earn from qualifying purchases.