Clearly the aesthetics for Christmas holiday decorating were masterminded by log cabin lovers. Nothing screams "log cabin" like Christmas. Sleigh bells might as well announce the arrival of a sleigh at the old homestead. The aesthetic of Christmas is right out of the woods of North America, where log cabins have been inhabited since the Europeans brought a Christian holiday to the frontier and then colored it with the red of cranberries and the green of the deep woods.
Even if you live in an ultramodern home, or a fancy Victorian, that woodland aesthetic is likely to make its way into your home for the holidays. Arguably, most of us are bringing the old log cabin into whatever new home we've found our way into. Here are ten straight-out-of-the-woods ways we create log cabin ambiance annually:
The Christmas Tree
The gorgeous evergreens we bring inside as a centerpiece for our celebration are right out of the virginal woodland setting of log cabin living. Evergreen is the crowning glory of most holiday home decorating, from wreaths on our front doors to miles of swag created annually to adorn staircases, mantels, porch railings and window sills.
Pine Scent
Pine scent infuses our lives in December. If the tree isn't fragrant enough, there's no lack of smell available from scented candles, soaps, and aerosol sprays and essential oils.
Pine Cones
Plus, pine cones. Gorgeous pinecones are likely to be part of the centerpiece for the big family meal, and feature in artwork everywhere.
Ever-Green Foliage
Runner up in the ever-green foliage of the holidays is holly, with its pretty pointed leaves and  gorgeous red berries. This native of North America is another woodland wonder, likely a neighbor to most traditional log cabins. Holly is a favorite with artists who design December decorations with holly, featured on our dinner napkins, holiday towels, and many of the holiday greeting cards that arrive in the mail.
Holiday Greeting Cards
Cabins are a common theme on holiday greeting cards, too.
Mistletoe
And speaking of greetings, there's the mistletoe. This spidery green grows high in the canopy of northern forest trees, and a quest for it may lead to a kiss from your true love. Only folks who lived in the woods would have time to cook up that story and sell it as a Christmas list must-buy.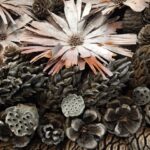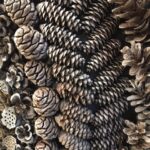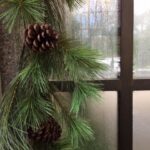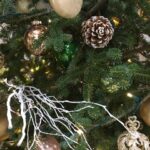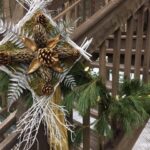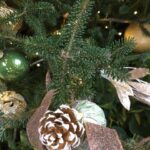 Previous
Next
Creatures of the Cabin Lawn
The creatures of the cabin lawn are also a big part of our holiday atmosphere. Horned stags or reindeer, squirrel, and bright red cardinals are frequently featured in holiday decorations – echoing the wildlife of North America, and a far cry from the camel, donkey, and sheep of Christmas long ago.
Northern Woodsmen
The people of Christmas are all Northern woodsmen, suspenders, workboots, and fuzzy winter warmies. Stockings of the thick red variety would never have been found in Jerusalem of old, let alone the pointy hats of gnome-like gentlemen.
Snow
Then there's the Snow. Snowflakes, and fake snow, and frosty window panes and "Let it Snow." Even tinsel and glitter are an attempt to bring those chilly little flakes to the holiday party.
The Yule Log
Last but so important: the yule log. A wood fire. A family center at the hearth of the home, and, ideally, a stone hearth at the heart of a heartwood home, constructed lovingly, tree by tree to last centuries.