Critical to achieving an aesthetically pleasing and cozy cabin, lighting can transform the way we perceive everything. It can change the aura of any room by fading, highlighting, brightening, and concealing.
The solution to a perfect lighting design lies in the flexibility of the system. For instance, in a lounge, lighting needs to be flexible enough for laid back evenings by the fire and high-spirited nights with family and friends – with the flick of a switch.
Types of lighting
There are three primary types of lighting that you can use in your cabin:
1. General lighting
The purpose of general lighting is to provide ambient light in a room. It is not specialized to suit a particular function or to highlight a specific area. For this type of lighting, you can make use of a chandelier or track lights.
2. Task lighting
As the name suggests, task lighting is used for specific tasks or functions in a given space. This lighting type is mainly employed in rooms like the study, kitchen, or even in the bedroom. For this, you can choose from a variety of floor and table lamps to achieve your lighting goals.
3. Feature lighting
With feature lighting, the aim is to highlight and accent focal points, pieces of furniture, or any other decor element in a space. To achieve this, you can use picture lights, wall sconces, and various specialized types of lighting.
Cabin Lighting Techniques – Downlighting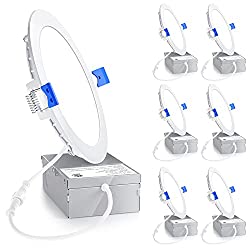 The purpose of downlighting is to focus and channel energy-efficient lighting to particular areas in a room or space. Downlights are usually deep-set into the ceiling, allowing only a small part of the fitting to be visible below the ceiling.
These are canless recessed downlights that have a thermally protected junction box. They can be installed on various ceilings types, and they utilize advanced LED chips that have higher lumens while consuming less power. With these lights, you can save up to 88% on energy. They are also relatively easy to install, and you can complete the entire installation process in minutes.
Ensenior downlights are suitable for use with almost any dimmer on the market, and you can install them in the kitchen lounge, workplace, and anyone other space.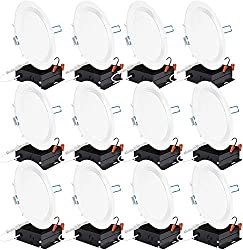 These top-rated 6 Inch slim LED Downlights are thermally protected, and they come fitted with a junction box. They are an excellent way to create zones and also highlight critical pieces in your space. They are also great for tasking. For instance, you can install them over a kitchen island for focused lighting.
Cabin Lighting Techniques – Uplighting
The idea is to project light towards the ceiling with uplights, which then acts as a reflector surface redirecting light to other areas in the room. You can use these to enhance the height of a room or space. There are several types of uplights available. You can get wall-mounted, free-standing, and high/low-level uplights.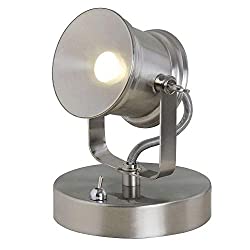 This accent spotlight can be mounted on a desk or the wall facing upwards. It is also great for highlight artwork or architectural elements. The light is designed with a keyhole at its bottom that allows it to be fitted to the floor or walls. The head can be titled and moved independently to direct light in any direction. It also features a brush steel finish giving it a retro metal style feel. , ideal for use as a decorative light to accent plants or room details.
Cabin Lighting Techniques – Wall Washing​​
The purpose of this lighting technique is to emphasize vertical surfaces. Wall washing is perfect for highlighting images, wall textures, and cabinets as well. Due to its ability to spread an even light across the room, wall washing is ideal for making a room feel more expansive. Positioning is crucial when dealing will wall washing; fittings must be more than 28 to 40 inches apart. Their distance from the wall is determined by the model of the fixture being used.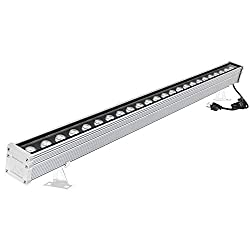 This is a 9.4inch LED wall washer light that comes fitted with a plug. It is also waterproof; therefore, it can be used outdoors, on walls, bridges, and billboards. The RSN LED 24W Linear Bar Light has low energy consumption and a considerably long life. It is relatively easy to install, and no hardwiring is needed as it comes with a plug.
Cabin Lighting Techniques – Feature Lighting​​
Feature lighting is used to highlight unique areas and decorative pieces in a room. For this technique, you can make use of low voltage light sources that are easy to hide. Ideally, the light should be placed between the wall and the viewer.

This three-light fixture is 7.63 inches high, with a width of 24.00 inches. It has a retro style, and it's white textured. It is perfect to use as a feature light due to its design and distance between the lights themselves. It is also considerably low voltage, allowing the viewer to focus on the highlighted item without being distracted by the light.